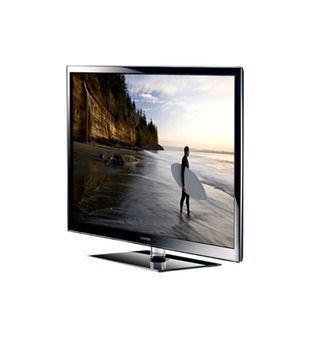 Market Price: Rs 86000
BestOnlineDeals Offer Price: Rs 59990

How To Get This Deal
$ Click Here To Go To The Product Link
$ Add Product To Your Cart
$ Proceed For Payment
## Store : Snapdeal
## Click Here To See More Deals From Same Store
3D and Full HD support
In-built Wi-Fi
Installation Process: Call Samsung toll free number (1800-300-08282) for installation. Installation and unpacking will be done only by manufacturer within 2 to 3 business days after delivery.
3 HDMI ports
51 inch Plasma Display
2 USB ports
Bring home the Samsung 51 inches Full HD Plasma 51E550 3D Television today and enter a spectacular world of Full HD 1080p 3D TV. Get set for an immersive and spectacular 3D experience with a new level of richness and texture with Samsung's innovative and powerful 3D active shutter glasses that deliver full HD 3D viewing. Not only that, your normal 2D content will seem totally new and in another dimension altogether with the 3D Converter. These awesome visuals are complemented by cinematic 3D sound, as well as an expansive viewing area with slim bezel for minimum distraction.
Featuring a new Crystal Design, the Samsung 51 inches Full HD Plasma 51E550 3D Television looks and feels very sleek and stylish. Instead of spray paint, a dual injection technology has been applied and as a result, there are no VOCs in the manufacturing process. The Plasma TV is also 90% recyclable. Using the latest in subfield motion technology, this slim and sleek Samsung Plasma TV flashes a single image up to 600 times a second resulting in smoother images with unprecedented picture quality, no matter how fast the images are moving.
The Real Black Panel on your Samsung TV reduces the on-screen glare caused by ambient light, so blacks and shadow details are as crisp and defined as possible. So with minimal reflection caused by the light conditions, images are clean, crisp and distraction-free. The Samsung Plasma+1 TV uses a new filter and panel structure to eliminate layered images and produce clear images from almost every angle. This Clear Image Panel also eliminates the production of dual images and blurring typically found with glass.
Enjoy apps, videos, Skype, web browsing and more with the built-in Wi-Fi and streamline your TVs connectivity capabilities without adding more external devices and maintain its attractive design. With AllShare Play, the Samsung 51 inches Full HD Plasma 51E550 3D Television wirelessly connects to compatible devices through DLNA technology so you can stream movies, photos, music and more to and from any compatible devices nearby, including PCs and mobile devices.
Price Comparison
flipkart rs 77,999 oos
http://www.flipkart.com/samsung-51e-550-plasma-…
tradus rs 77,871 Seller Dteez
http://www.tradus.com/samsung-51e-550-plasma-51…
shoppingindiatimes rs 75,660 after discount
http://shopping.indiatimes.com/electronics/plas…
indiaplaza rs 74,624 oos
http://www.indiaplaza.com/samsung-51-inches-ful…
infibeam rs 72,799 oos
http://www.infibeam.com/TVs/i-Samsung-51-Inch-T…
shopbychoice rs 78,999
http://www.shopbychoice.com/samsung-51e550-51-i…